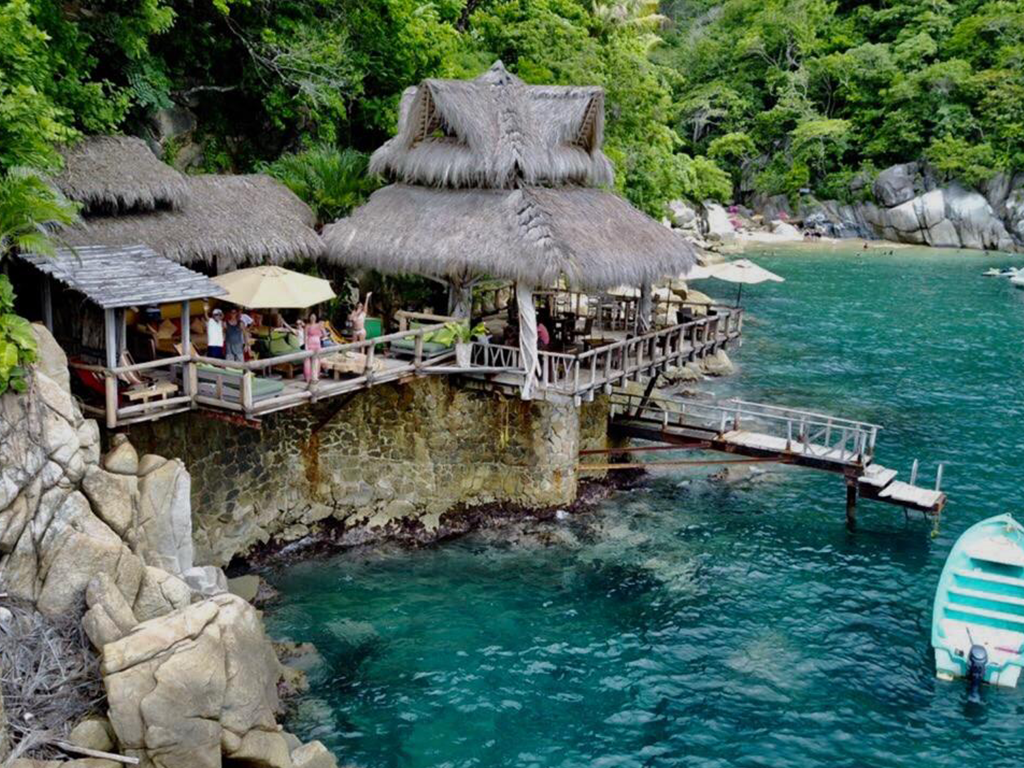 Ocean Grill
Special Instructions and Photo Credit
Our Panga will pick you up 15 mins before your reservation on the pier of Boca de Tomatlan.
Business Hours
There are 3 seatings available for lunch reservations, 11.00 am, 1.00 pm and 3.00 Because of our location and access we are unable to accommodate children or pets at the Ocean Grill. We are a CASH ONLY and RESERVATION ONLY restaurant. Reservations can be made on OPEN TABLE at https://www.opentable.com.mx/r/ocean-grill-vallarta-cabo-corrientes
We are LOCATED approximately 45 minutes south of Puerto Vallarta on the little jewel of a beach named Los Colomitos. You can catch a cab or a bus to Boca de Tomatlan where our private water taxi service (there is a small fee of 100 pesos per person for our private taxi that goes to the driver to pay for his boat) will ferry you to our palapa covered veranda, perched over the ocean. More intrepid travellers can also walk in via the trail from Boca, a 30 minute adventure providing a taste of jungle terrain. Our large and loyal clientele will experience an adventure; our spectacular location, great service, and delicious food, as well as some Fresh surprises.
Love our business by sharing
What a place! ♥♥♥♥♥ I'm not certain how you would get there by land. I do know getting there by boat was a real adventure and couldn't be more fun! The food was incredible, especially the seafood was extremely fresh. Did I say we were on the water. The bathroom was built into a treehouse. The owner and general manager are very friendly and thankful for your patronage.
New Year's Dinner ♥♥♥♥♥ Ocean Grill does not disappoint. The food is always melt in your mouth amazing. Try one of their tasty signature cocktails or enjoy an ice cold beer. The wine list impressive, too! You'll have to catch a panga from Boca so be prepared to climb in and out of the boat and climb the ladder at the dock. When nature calls, you'll see why their banos is known for having one of the best views in Vallarta. This is an absolute must do when visiting Puerto Vallarta. Don't miss out.
Amazing Experience ♥♥♥♥♥ Wonderful experience from start to finish. The boat shows up perfectly on time, you are escorted to a table of your choice, beverages are served promptly, and orders taken at your leisure. The clams were incredible with a bright touch of ginger and lime and the smoked marlin tostadas were fantastic! The house special grilled pulpo was a full octopus and the olive tapenade was a perfect accompaniment. Don't overlook the grilled vegetable plate, the goat cheese and balsamic vinaigrette are a welcome change to the typical food of PV. The key lime pie rivals its namesake from south Florida. But aside from the fantastic food and a view to die for the thing that left us with a lasting experience was the hospitality we experienced from Ernesto, Alexandria, Blanca, Wilson, and the entire team. The whole crew waited for us to board the boat and were kind and helpful from the beginning. I can't recommend this restaurant enough.
A network website with social media sharing where "businesses work together building traffic."
** The Power of Social Media Networking**
200+ business owners sharing
It is powerful. You control your own page. Ability to Immediate edit and add your content. Owners are featuring promotions and events, and then sharing. That is the equation to more traffic and success.
REGISTER
Our New Facebook Group
It is all about networking and tools. Our website plus our Facebook Group make it easy for you to promote your business. Join and invite some friends; that is how WE grow. In one year, we grew to 4000+ members.
Join Facebook Group
Join the Top Ten Team!
Only $3000 pesos annually, your page will be part of the top ten network that is in every language, offers many 1st page adv spots, allows edits and adds, and promotes your business through social media sharing.
Related Businesses and Deals